Don't Just Take Our Word For It...
What our clients have to say about our work is just as important as a perfect picture at the end of the day. Our integrity matters and building a relationship with our clients is an integral part of our success…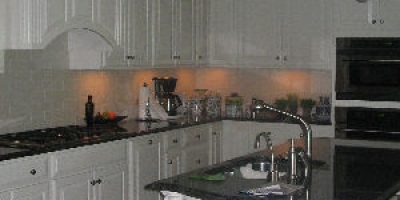 We recently moved into our new home built by Gibraltar Custom Builders. We are extremely pleased with the craftsmanship and design of our home, so we wanted to let others know about our experience. We first met the owner, Brett Black, when a friend (who is also our realtor) introduced us to him. She recommended him very highly as a person who cares deeply about his customers and the quality of his products. Brett immediately made us feel confident the first time we sat down with him. From that first meeting on, we decided to have Brett design and build our dream home. As we participated in and watched the process unfold before us, Brett turned our dreams into reality. From the beginning of designing our blueprints, until the last tile was laid, Brett was there through it all, even stepping in to help us resolve the difficult decisions during construction with his confidence and creativity, it was obvious he really cared. Looking around at our gorgeous new home, we absolutely could not be happier with the job Brett and his crew did for us. Our dream home is perfect! We are so proud of our home, and feel like we really contributed to its beauty by being partners with Brett through the entire process. Thanks Brett- job well done!"
"We had a great remodeling experience with Gibraltar. My wife and I had a pretty good idea of what we wanted out of the project including many custom features. Gibraltar made it happen without a lot of headaches and change orders. In addition, Brett and his crews really pay attention to detail. Everyone that has seen the final product comments about the exceptional workmanship. From acquiring the permits to knocking out the final punch list, Gibraltar did a wonderful job. It was really refreshing working with such nice, professional people. They receive our highest recommendation."
"We decided in April of 2006 to invest in a major addition to our home. Having been a masonry contractor in San Diego, California, who specialized in custom, high end work, our expectations for our builder were very high. After much research and numerous meetings, we decided to go with Brett Black at Gibraltar Custom Builders. Now that our project has been completed for some time now, my wife and I can happily say that all of our future building needs will always start with Brett at Gibraltar. Not only did they meet our expectations- they exceeded them! We were pleased to have a builder who was always available, hard working, honest, professional and most importantly, sincere."
"We recently relocated to the Newark area and purchased a brand new builder's spec home. Although we were pleased with the new home, it was lacking some of the things on our wish list. Specifically a sun room and deck. We contacted Brett Black at Gibraltar Custom Homes at our builder's suggestion. Brett worked with us to design the perfect addition to our home. It was so perfect you can't tell it wasn't original construction. Brett was receptive and supportive of our ideas as the build was in progress and most important of all he was responsive to any and all issues as they arose. We have recommended Brett to many of our new neighbors and would work with him and his crew again in a New York minute."
We'd love to add your story to our website. Please take a moment to fill out our contact form with your feedback!
Sign Up For Our Newsletter!